— This page is under construction —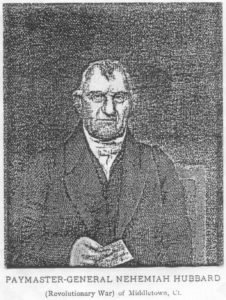 Something of a local icon; a pillar of the  community, Nehemiah Hubbard Jr. was born 10 April 1752 in Middletown, CT; the third child of thirteen to Nehemiah Sr. and Sarah (Sill) Hubbard.  At fourteen he apprenticed under Col. Matthew Talcott, serving as a clerk in the Talcott store until he turned 21 when he then went to sea on the West Indies run, eventually becoming a captain and merchant in his own right.  Nehemiah joined the American cause in 1776, appointed by Connecticut Governor Jonathan Trumbull Sr. to serve as paymaster to Col. Charles Burrell's regiment.  In May of 1777, Major General Nathanael Greene (Quarter Master General by request of General Washington on 2 March 1778) appointed Nehemiah as his deputy quarter master for the State of Connecticut, which he held through 1780 when Colonel Timothy Pickering took over as the next Quarter Master.  Nehemiah continued in this capacity until relieved by a successor, and moved into working with Wadsworth & Carter, contractors supplying the French forces on the ground for the American cause.  He accompanied them to Yorktown and was present at the surrender of Cornwallis.  Nehemiah's work ethic and effectiveness was well noticed by his superiors, which might account for his being selected years later as a Naval agent for one of the new vessels proposed to be built.
After the war, Nehemiah returned to Middletown, setting up as a merchant.  In later years he became the president of the Middletown Bank and of the Savings Bank.  He apparently helped to start others in business and in 1795 he purchased 15, 274 acres in Connecticut's Western Reserve, forming Hubbard Township in what is now Ohio, and it exists today.  He is also credited with having given a large piece of the land to become Weslyan University.  He appears to have been quite a financial wizard.  I will be adding more about the man soon.  For our purpose here it is important to know that he was a well known and influential man, seemingly perfect for the task as Navy Agent for the new US Navy and overseeing the building of a ship nearby.  He accepted the appointment, for the next letter from Sec. of the Navy Stoddert is, with the corrected name:
Mr. N. Hubbard, Middleton, Conn.     18 July 1798
   Sir, Mr. Seth Overton arrived this morning and handed me your letter of the 14th in reply to mine of the 10th Inst.  We have had much conversation on the subject, the result of which is, that I now authorize you to contract with him for the Ship in question, at any price, not exceeding 30 ½  Dollars per Ton, and deliverable at any time previous to the 15th of November next.
   He promises that she shall be built of the best materials, and finished, at or before that period.  You will have a regular contract drawn & executed, as soon after his return as possible, wherein you will keep in view, the above limits & the several particulars mentioned in my Letter of the 10th Instant, and add any others that you may consider for the Interest of the United States….
Nehemiah continued his association with the ship throughout her finally sailing in October of 1799 on her cruise.  After this time he was no longer needed and he was paid off and returned to his regular life in Middletown.  Nehemiah Hubbard Jr died in 1837.  The photo above is of a drawing of him and not his father which is frequently the mistake.